Kutter's Catspaw "Kat Too"
A Sailing Dinghy
| | | |
| --- | --- | --- |
| | By: P/C Wolfgang Kutter, SN | |
---

Yesterday, November 3, 2012, I sold my boat to a party in San Diego.

Interesting to note that the dinghy was built in San Diego in 1982, and exactly 30 years later it returned "home". For the time being I will keep this web site open and I will continue to look for people, who own the same type of boat.

This is my story of a catspaw sailing dinghy, sprit rigged, hoping that this will find other owners of this boat design. I would like to exchange experiences in sailing this boat, maintenance tips and learn more about her history.

In 1998, I purchased this dinghy from the widow of a good friend of mine, who was the previous owner and with whom I sailed several times on Big Bear Lake (Southern California). I understand that the boat was built around 1980 by Dennis Ferguson of San Diego. I named it "Kat Too", because I used to own another boat with the name "Katinka".

The boat is in very good condition. During the winter 2000/01 I applied a few coats of varnish, and tried to fix a leak at the centerboard housing. So far I did not succeed to fix the leak completely. I tried again in early 2002 but she is still leaking, although less than before.

A great sailing season started in May of 2001 on Big Bear Lake, with the mountain peaks still covered in snow, and it ended in November. Due to extensive travels to Europe and Hawaii, "Kat Too" has not been out much in 2002. Southern California has experienced a few years of very low precipitation and the water level on Big Bear Lake was 12 to 15 ft below normal. During that year I could not sail into many of the bays and coves which I used to go into. The spring of 2003 was slightly wetter. However, due to personal circumstances, I did not sail "Kat Too" during the entire year of 2003.

In 2004 she found a new home in Orange County (Southern California) due to our move to this area in April. I have explored new sailing grounds, starting with the bay and harbor in Newport Beach. By the way, Newport Beach Harbor is the largest harbor for pleasure boats in the world. One can see boats from 10 to over 100 ft in length.

Until March of 2004 the boat and trailer were stored in my garage, since then both are in an open parking area. This has led to the deterioration of the varnish and trailer paint. During the spring of 2008 I revarnished the inside of the boat and in April of 2009 I did the outside hull, plus touched up the paint of the trailer.

On September 17, 2011 the American Legion Yacht Club of Newport Beach, CA had their annual Wooden Boat Festival. I exhibited "Kat Too" amongst many other wooden boats of all sizes. The larger boats were in the water, whereas trailer boats were shown in the parking lot. It was a fun day and the event gave me the opportunity to talk to many wooden boat enthusiasts, especially with those who built their own boat. Not having built "Kat Too" myself, I learned a lot about fabrication techniques of small wooden boats.
Modifications:
During the winter of 2001, I added a new bench (see picture below), which is lower than the original benches. This was done to allow my two young grandsons (then 10 and 8 years old) to sit lower in the boat and have a safer seat to enjoy the rides.
The boat can utilize a small electric trolling motor connected to a marine battery (battery comes with the boat). The problem I had was the fact that I never knew how much the battery was discharged. Therefore, in August 2001, I mounted an automotive digital plug-in voltmeter. In order to make this installation as unobtrusive as possible, I affixed an automotive cigarette lighter recepticle (auxiliary power supply) under the rear bench and connected it in parallel with the battery cable leading to the trolling motor. The voltmeter fits nicely into the recepticle. Works like a charm !
One of the challanges sailing this dinghy is the fact that one cannot take down or shorten sail while underway. I devised a rigging setup so that the sail can be shortened anytime to about 1/2 the original sail area. Two separate lines were run to the back of the boat. The first runs from the upper part of the sprit to the mast, through a block, down the mast, through a second block (mounted on the deck) and finally through some guides to the back, tight off on a small cleat. The second line runs from the claw of the sprit through a block on the mast, down to a block on the deck and again through another set of guides to a second cleat in the back of the boat (see pictures below). By first loosening the line to the claw and then pulling the other line, so that the sprit will be parallel to the mast, the sail area is cut in half (see Video below). This is very useful in high wind conditions, especially when coming to a dock.
Due to the fact that I hardly go sailing anymore (age, mine ! ..... not the boats age), I have decided to sell the boat, including the trailer and all accessories listed below. So anyone in Southern California, interested in purchasing this unique boat, you can contact me by e-mail at wkrkutter@comline.com

---
According to the WoodenBoat Publication, the original boat was designed and built by Joel White who drew the lines in 1977. It was made for a friend of his by the name of Ben Emery. Ben had in mind a boat similar to a dinghy model, which was carved by Nathanael Greene Herreshoff in 1899 (see below). The Herreshoff dinghy was a 11 1/2 ft lapstrake yacht tender. Because Ben wanted space for two adults and two children, the design was enlarged about 10% to 12 1/2 ft and other minor modifications were made to meet the needs of the Emery's. For example, the original daggerboard design was changed to a centerboard. The result is a boat that can row and sail rather well, with a simple sail rig that can stow within the boat. It is easy to set up and lacks a head knocking boom. The rig offers the maximum sail area for the least spar length. The boat is rugged enough to be pulled up on a beach.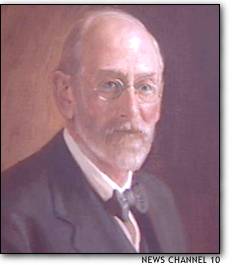 N.G. Herreshoff (Captain Nat)

The older of the Herreshoff brothers, John Brown Herreshoff, who was legally blind since the age of 15, founded a boat building company in 1863. In 1878 N.G. Herreshoff joined J.B. as a partner and they called their very successful firm the Herreshoff Manufacturing Co. N.G. Herreshoff (Captain Nat) was born in 1848 and he died in 1938. There is a Herreshoff museum located at the old estate and boat building facility. For details see their website at Herreshoff Marine Museum, Bristol, RI.
Through the "WoodenBoat Forum", Thad Danielson of Redd's Pond Boatworks , gave me the following additional information: (quote) 'The lines of Joel White's Catspaw dinghy are based on the lines of one of N.G. Herreshoff's COLUMBIA Lifeboat Model tenders. The model was carved in 1899 for the "lifeboat" of the America's Cup defender COLUMBIA. This was the last tender/dinghy model Captain Nat carved for the Herreshoff Mfg. Co. There are a couple of previous models that were used sparingly, but all of the Herreshoff dinghys after 1899 were built from the Columbia model.
After N.G. left in the mid-twenties, his son Sydney ran the company and designed the "tech dinghys" for MIT and possibly others. Catspaw's sprit rig is White's, Nat typically used a leg of mutton' (end of quote).
According to Barry Thomas of the Mystic Seaport Museum, the original 11 1/2 foot COLUMBIA lifeboat model dinghy was built in 1905. It was considered the ultimate of the lapstrake yacht tenders.
Does anyone, besides Mystic Seaport Museum, still own one of the original Herreshoff dinghies or one of the replicas ?
back to Table of Contents
Length overall 12' 9"
Beam 4' 5 5/8"
Keel is a pivoted centerboard
Draft 12"
Weight 145 lbs (estimated)
Height of mast 11' 6" (step to head)
Length of sprit 11' 6"
Sail area 63 sqft
Oars, 2 pairs
Battery, 12 V, marine type, deep cycle, Exide, Model Nautilus NC-27, 730 MCA. At speed setting 3, one battery charge will last over 3 hours.
Fenders, 2 woven (old fashioned)
Compass
Wind vane
Anchor, mushroom type, 8 lbs
Boat hook
back to Table of Contents
Hull is made of Port Orford cedar strips 1/8" x 4"+, in 3 layers sandwiched with epoxy and final coated with very fine fiberglass and varnish. Cold molded, stich and glue.
The rail is white oak.
The benches are mahogany.
Find and fix a leak around the centerboard housing
Research if sailing into the wind can somehow be improved. Right now I can only sail her off the wind by about 70 to 75 degrees.
How to shorten the sail area while underway (accomplished: see description under "Modifications" and pictures below)
back to Table of Contents
"Kat Too" Picture Gallery: (Click on pictures to see enlargements)
"How to build the Catspaw Dinghy" by the Editors of WoodenBoat Magazine
"Building the Herreshoff Dinghy" by Barry Thomas, published by the Mystic Seaport Museum, Inc.
"BELLA VIA", owned by George Dupree, Ventura, California (built in 1999 in Florida)

"(name unknown)", built and owned by Mark Ryan, Victoria, Australia (built approx. 1990)

"SEA JAY", owned by Chris Wickersham, Cocoa, Florida (built in ???). For more details and pictures click here.

"ARIEL", owned by Leigh Miller, Bellevue Heights, Adelaide, South Australia (built between 1986 and 1989). She is 12'8" strip-planked Western Red Cedar, held together with epoxy resin and covered in glass fiber sheet and clear varnish. Leigh took boatbuilding lessons through Duck Flat Wooden Boats under the Tutelage of Robert Ayliffe.

"MATTENATT", built and owned by Eddie Berry, Benicia, California (finished in Aug. 2011). She is of douglas fir planking and all thwarts, seats, centerboard box and transom are mahogany. Other parts are cherry, redwood, white oak and white poplar. The outside hull is fiberglassed and painted white, with the waterline green. Sails are from Sailrite, Indiana.

"(no name yet)", owned by Melvin Cooper, Dallas, Texas area. Hull is of lapstrake construction and to some extend, modified from the original design (built at/in ???). Further details to follow.
The following boats were designed by N.G. Herreshoff and built at the Herreshoff Mfg. Co. in Bristol, RI (unless noted otherwise).
COLUMBIA Life Boat model dinghy (unnamed), 1929, LOA: 12' 5", Owner: Mystic Seaport Museum

This boat has fore and aft decks which serve as flotation tanks and allows the boat to be launched stern first from the deck without swamping.

Dinghy SEAFARER, 1926, LOA: 10' 3", Owner: Mystic Seaport Museum.

Replica of the 11 1/2 foot COLUMBIA lifeboat model dinghy, built in 1975-76 by Mystic Seaport Museum. I don't know at this point if it is still owned by the Museum.
back to Table of Contents

back to Table of Contents
---
You can reach me by e-mail at: wkrkutter@comline.com
Last up-dated: 2012-11-04
Copyright© 2000/2012 WKutter
| | | | | | | | |
| --- | --- | --- | --- | --- | --- | --- | --- |
| | . | | | | | | |
| Whiskey | . | Kilo | Uniform | Tango | Tango | Echo | Romeo |
---
Powered by counter.bloke.com